Call Centers Overview
Hopeiekr GSM/WCDMA/LTE VoIP gateways support the route of VoIP calls to landline/mobile phones within the 2G/3G/4G mobile networks, provide a wide range of call cost-saving solutions for call centers, to increase answer rates from end users, and offer new effective operation methods for call centers.
Call Centers Solution
Easy to implement and increase productivity Increase customer contact rate Powerful SMS tools Email2SMS, and SMS2Email and Voice capabilities Centralized management for calls and SIM cards No need to make changes in your telecom existing infrastructure.
Perfect Hardware of Your Call Center Solution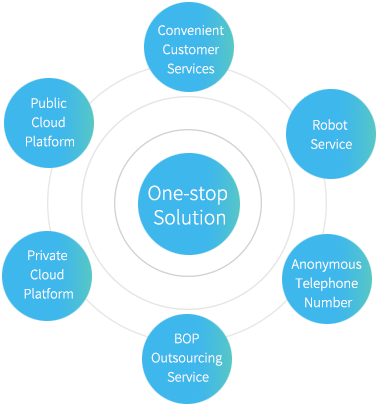 Whether you need hardware to interconnect with service providers,
or hardware for agents, you can find here.
No worry about the compatibility with your call center softwareFuture-proof hardware empowers you to leverage the latest AI technology
Call center Features
Full Compatibility with Call Center Software
System Structure
1.AutoCLIP
Redirect the call to the original extension. Hopeiker GSM/LTE Gateway automatically stores information about outgoing calls to the AutoCLIP routing table. When a person calls back, the call will be routed directly to the original extension (e.g. receptionist) that made the former-mentioned outgoing call.
2.SMS to email
Allow users' email to receive the SMS of a GSM/LTE network. The SMS sent to the GSM/LTE ports will be received firstly by application of gateways and then forwarded to the pre-configured email address. Make users can receive the SMS through email.
3.Email to SMS
Detect the user's email address automatically. Identify the pre-configured content and forward it to the assigned user's number by SMS. Widely used for Alarm (Government), Notice (Education), Register& Tracking (Online shop, Logistics), and Code/Receipt (Bank password).
4.Auto Dialing/ IVR
High voice quality, High AI recognition rate.
5.AI Robot Interaction
Support mainstream Speech robot software, and voice interaction via speech robot with artificial intelligence. Replace traditional phone seats and conversations with listeners at zero cost.
6.Call2C/Click2 call
Allow providers to have various ways to access customer services, such as Whatsapp, Facebook, Telephone, Email, Apps, and Online consulting. Help call centers to serve customers anytime and anywhere, raise working efficiency, and eventually improve customer satisfaction.
Call Center Benefits
Savings Call Costs
Hopeiker GSM/WCDMA/LTE VoIP gateways give you the opportunity to avoid multiple interconnection fees charged between different operators and also avoid Local and national call charges when calls are made across different networks and operators, countrywide.
Improve Answer Rates
Hopeiker GSM/WCDMA/LTE VoIP gateways are easy to implement compared to analog VoIP gateways and ISDN PRI gateways. As landlines can't change CLI once the client applied landline service from their operator while ISDN PRI gateway has the same problem. With GSM/WCDMA/LTE VoIP gateways, the client is easy change their SIM cards and presents different CLI to their customers, thus maximizing the opportunity to reach them directly and not consider them as SPAM.
Improve customer experience
User SMSs for closer contact with customers within 2 minutes will improve customer experience a lot.
Hopeiker provides an easy integration with legacy systems through HTTP, HTTP API, or SMPP.