what's Integrated Access Device
IAD products are high-performance, multi-purpose voice access gateways designed for small and medium-sized enterprises. The products support data, voice, security, VPN, and other functions to meet the needs of operators or virtual operators and enterprise units to provide users with IP access. Broadband, voice, and fax services, this product can also be used with IP PBX equipment to provide efficient voice communication for the establishment of cross-regional IP voice switching networks for branches of government, enterprises, and schools.
IAD products include a variety of interface types to support the connection of analog phones, fax machines, PCs, and broadband networks.
The product adopts the standard SIP protocol and complies with the TISPAN/IMS standard. It is
perfectly compatible with IP PBX, SIP server, and carrier IMS/NGN Softswitch platform, providing flexible and diverse access modes for large-scale deployment of carrier projects and enterprise converged communications. Shenzhen Hopeiker. has accumulated years of practical experience and Strong technology in SIP, voice processing, and embedded system design. VoIP voice gateway has been adopted by operators and many enterprises around the world.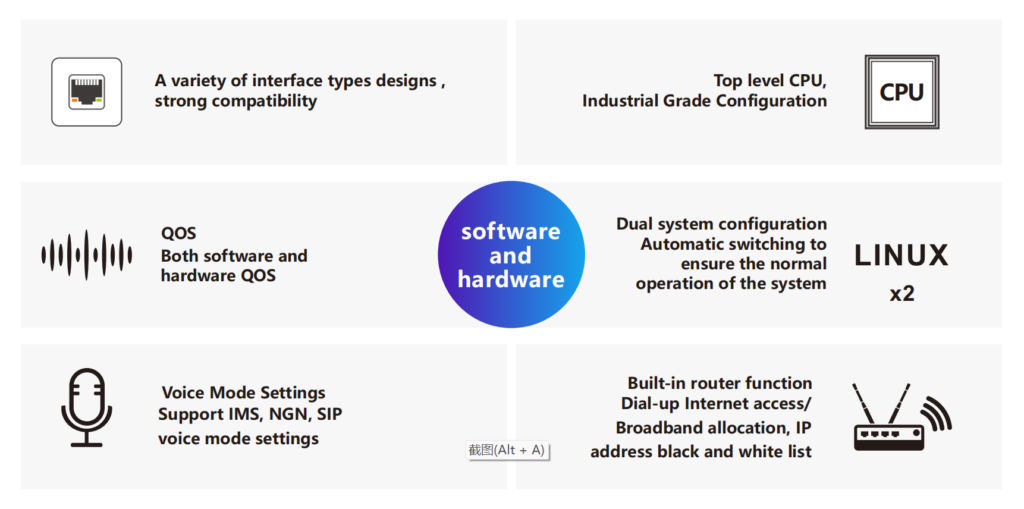 Integrated Access Device types of gateways
FXS Gateway: An FXS (Foreign Exchange Station) gateway is a device that connects analog devices, such as telephones, fax machines, or analog PBX systems, to a Voice over IP (VoIP) network. It converts analog voice signals into digital packets that can be transmitted over an IP network, allowing analog devices to communicate over an IP-based network.
FXO Gateway: An FXO (Foreign Exchange Office) gateway is a device that connects an IP-based network to a traditional Public Switched Telephone Network (PSTN) or analog phone line. It converts digital voice signals from the IP network into analog signals that can be transmitted over a PSTN or analog phone line, enabling VoIP systems to connect to traditional phone lines.
VoIP Gateway: A VoIP gateway is a device that facilitates the conversion of voice traffic between IP-based networks and traditional PSTN networks. It can convert analog voice signals from analog devices or digital voice signals from digital devices into packets that can be transmitted over an IP network, or vice versa, enabling communication between VoIP and PSTN networks.
GSM Gateway: A GSM gateway is a device that interfaces between an IP-based network and a GSM (Global System for Mobile Communications) network. It allows voice calls or SMS messages to be transmitted between IP-based networks, such as VoIP networks, and GSM networks, enabling communication between IP-based systems and GSM mobile networks.
These types of gateways are commonly used in telecommunication networks to enable communication between different types of networks, devices, and protocols, and they play a crucial role in facilitating interoperability and connectivity in modern telecommunications environments.