IP PHONE -The future of phone calls
How the internet has changed communication
The internet has revolutionized the way we communicate. It has made communication faster, easier, and more convenient than ever before. With just a few clicks of a button, you can connect with friends and family all over the world in an instant. Whether you're sending a quick email, instant messaging, or social media the internet has made communication easier than ever before. So how has the internet changed communication? Let's take a closer look!
New Internet products IP Phone
If you're like most people, you use the internet every day. And now there's a new way to experience the internet – with IP phones! Ip phones are designed to give users a better internet experience by providing crystal clear audio and video quality. With an IP phone, you can enjoy all the benefits of a traditional phone while also being able to take advantage of Voice over IP (VoIP) technology. Plus, there are plenty of other great features that come with an IP phone, like call forwarding and caller ID.
How to use IP phone technologies to your advantage
IP phone technologies are quickly becoming the new standard in communication. They offer a number of advantages, such as increased flexibility and mobility.
First, using an IP phone allows you to work from anywhere with an internet connection. This flexibility is a huge advantage for those who need to be constantly mobile.
Second, IP phones are often less expensive than traditional landlines. This can save you money in the long run.
Finally, IP phones offer features that traditional landlines do not, such as voicemail-to-text transcription and video calling. Using these features can help you stay connected with family and friends, even when you're away
Examples of how businesses are using these technologies to communicate with their customers
Case in point: See how we work from home in an epidemic state
When your life is on hold because of an epidemic, but your work can't be, then home/telecommuting becomes the new normal for businesses to stay on track during special times In the mobile internet era, office software such as instant messaging and social media have become essential for businesses to work, but none of this software has solved the problem of corporate telephone voice communication in the home/remote office state.
Customers call the company but no one answers, affecting the company's image and possibly missing out on business opportunities
Employees use their personal mobile phones to contact customers, which not only increases communication costs but also makes it impossible for the company to assess
IM (instant messaging) cannot get feedback from the other party as quickly as telephone communication
Solutions
With the IPPBX8000 as the core, it provides a network-based IP communication solution for businesses to bridge the gap in telephone voice communication and collaboration during home working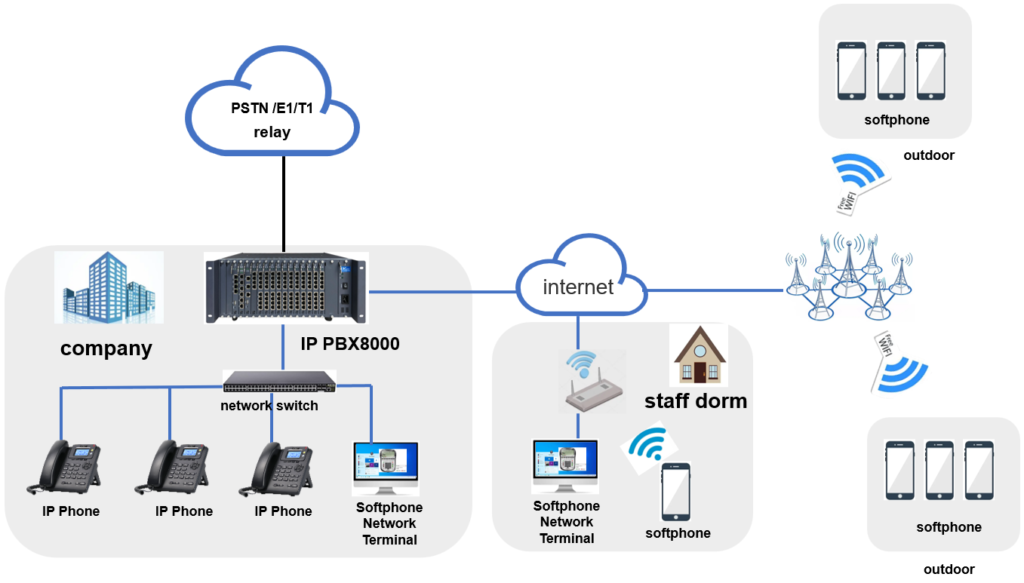 Enterprise network configuration
Hope-Iker IP PBX systems use the international standard SIP protocol to seamlessly connect IP PBXs, IADs, IP phones, and other end devices for interconnection.
An IP PBX8000 is placed in the head office as the core switching system for internal and external voice lines, which is distributed to all departments and off-site employees.
Use your PC browser to access the IP address of the IP PBX, enter your personal username and password to log in to the web side and set up the IP PBX management interface to assign terminal extension accounts, restrict rights and other functions.
Outgoing lines use analogue and digital trunks to interface with the operator for outgoing number calls
Office desk phone
The IP PBX8000's LAN port is used internally to connect to an internal network switch to branch out to an internal IP phone terminal or softphone registered extension.
IP phone terminal to achieve extension account registration steps: First, the IP phone access to the enterprise internal network switch network port automatically assigned IP. then, the IP phone set access needs to use a PC browser to connect to the phone to fill in the IP login interface. Finally, log in to find the account registration page to fill in the host IP address or domain name, port, extension number, registration password provided by the enterprise to achieve intranet registration extension number.
Home/Remote working
You can also access the IP PBX from your home PC browser using a dedicated IP or domain name plus port, e.g. ip pbx.xxxxxxx.com:50 and enter your personal username and password to log in to the IP PBX setup web interface.
The IP PBX provides a dedicated IP address or host mapping domain name for remote colleagues to register an IP phone terminal or softphone app, which can be used as an extension account by filling in the IP address or domain name, port number, extension number and registration password.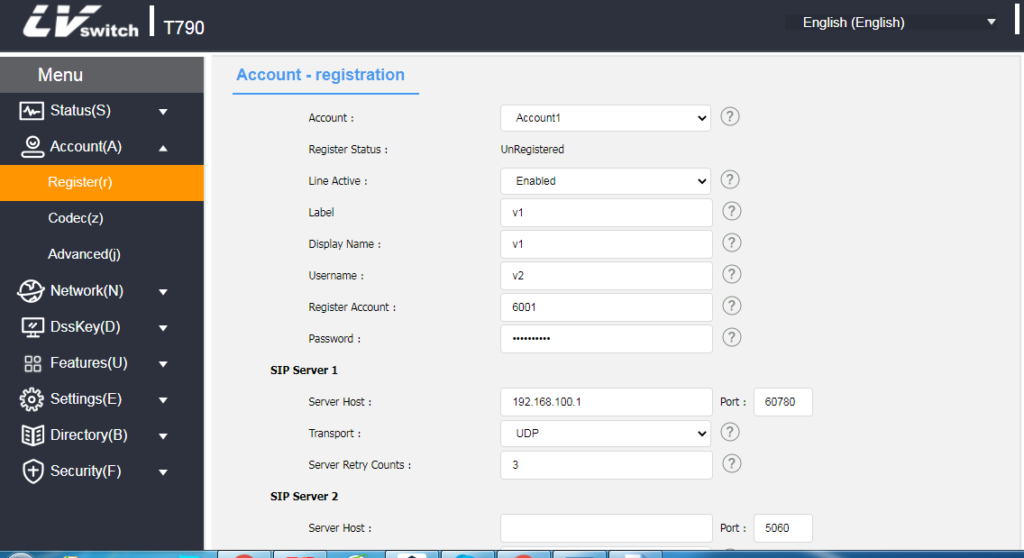 Functional highlights
Softphone
The IPPBX softphone can run on the third-party web and mobile phones. In the APP interface, users can quickly find their address book and call history and make calls, answer calls, hold calls, transfer calls, mute calls, etc. with a single click.
Teleconference
IP PBX supports up to 500 party teleconferencing, single group speaking, and multiple concurrent teleconferencing
The IP Phone supports real-time three-way conferencing, allowing administrators to invite participants, exclude participants, mute members and more via voice menu prompts.
Videoconferencing
Support for up to five-party video conferencing, web-based and accessible from your browser with a single mouse click on the conference link
Programme Benefits
Simple and quick
You can use your IP PBX and IP phone to make and receive internal and external calls as usual from your home office, using your computer browser or mobile phone. There is no need to install additional hardware or software, eliminating the need for complicated network configuration.
Effective communication
Use IP PBX and IP phone to maintain close voice communication with colleagues and customers, and you can initiate conference calls and video conferences for multi-person collaboration at any time. Businesses can operate even when employees are not working together
Perfect management
IPPBX has a wide range of built-in tools for departmental managers to assess the efficiency of their staff working from home, such as extension status, call console, queue console, call logs, call recording, etc. to keep the team running as efficiently as ever
Summary:
The explosion of new technologies has led to a new era of communications
Communications are now faster, more efficient, and more accessible than ever before
We are now able to connect with people all over the world with ease
The future of communications looks bright, and there is no doubt that it will continue to evolve over time