Different network solutions are required at different stages of business development
At different stages of business development, different VoIP network solutions may be required. For example, during the start-up phase, a simple and cost-effective solution may be best. As the business grows, however, a more sophisticated VoIP network may be needed to accommodate increased call volume and data traffic.
Hopeiker is the perfect VoIP service provider for businesses of all sizes, we have all the features you need to make your business run smoothly, including conference calls, voicemail to email, and much more. Plus, we're always updating our services to stay ahead of the curve.
With our low rates and easy-to-use interface, you'll be able to save money and improve communication at the same time. With our fast, reliable, and secure network, you'll be able to focus on what you do best – running your business. So don't wait any longer! See the difference Hopeiker can make to your business.
SME equipment needs to have the following characteristics
The ability to connect various types of devices. This may include laptops, desktops, and even smartphones, etc.
Advanced security to prevent hacking and eavesdropping, allowing confidential information to be exchanged without worry。
Ability to handle high call volumes, with high-quality audio and video for clear communication – Scalability so that the system can grow with the business.
Easy to use so that employees can learn how to use it quickly.
Configuration of network solutions
Option 1: How to use a VoIP system in a small office for an enterprise-class wireless experience
IP PBX 800 and IP phones (with wifi) Multimedia communications such as voice and video conferencing over IP network protocols, which are compatible with a wide range of devices and networks.
Standard configuration 4Fxo+12Fxs+60SIP
A cloud PBX is a private branch exchange (PBX) system that uses Voice over Internet Protocol (VoIP) technology to route calls through the internet. Unlike traditional PBX systems, which require on-premises hardware, a cloud PBX can be hosted off-site, in the cloud. This can offer a number of advantages for businesses, including lower upfront costs, scalability, and increased flexibility. In addition, a cloud PBX can be easily integrated with other cloud-based applications, such as CRM software. As a result, cloud PBX systems are becoming increasingly popular among small and medium-sized businesses.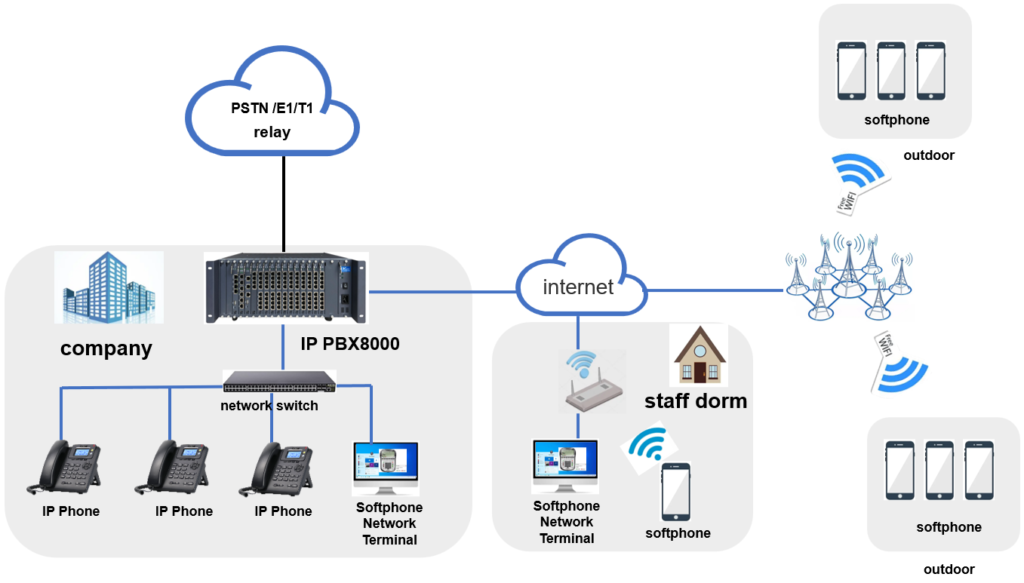 Unified Platform Converged Communications
Experience the ultimate convenience of doing business anywhere, anytime with our IP PBX, SIP phones, analog gateways, media gateways, IMS Softswitch multimedia subsystem unified communications devices. Gain an edge over the competition by combining voice, instant messaging, conferencing, online status, and more all from one platform at …….
All office extensions
Smart corporate switchboard, click/touch to make, answer, transfer or record calls and view voicemails and recordings from anywhere. When an external user calls the switchboard, a welcome message and company presentation can be played for the external user to enhance the corporate image.
Instant messaging and file sharing
Send SMS messages to anyone in your company directory and easily share files in real-time.
Customer Relationship Management Integration
Customer Relationship Management is a process that helps businesses manage customer relationships.
Present
Instantly visualize who is available, busy, or offline using the colored status indicators.
Value-added business functions
Network management, billing, attendant console, simple call center.
Unparalleled ease of use and manageability
Use your existing IP phones, SIP trunks… Everything you choose to easily integrate IP phones, hotel phones, SIP paging systems, door phones, and any SIP-compliant endpoints and systems. Proven interoperability with SIP/PSTN/ISDN trunks worldwide; certified by over 80 SIP trunk providers Works seamlessly with traditional PBXs, software-based PBXs, or other servers to protect existing equipment and leverage new technologies to quickly and automatically configure IP phones from six leading companies top six leading companies and more.
Option 2: SME Network
Provide reliable connectivity between corporate networks, and between corporate networks and the Internet, to the satisfaction of employees and customers alike.
1. IP PBX + IP phone
For businesses looking for a reliable and cost-effective communications solution, the IP PBX + IP Phone is a perfect choice for small businesses. The system includes pre-configured hardware and software, making it easy to set up and use. https://szhopeiker.com/smb-pbx-system-solution/
VoIP, or Voice over Internet Protocol, is a modern phone system that uses your existing internet connection to make and receive calls. business VoIP phone systems have many advantages over traditional landline systems, including lower costs, increased flexibility, and enhanced features. Perhaps the most significant benefit of VoIP is its scalability. With traditional phone systems, adding new lines can be expensive and time-consuming. VoIP systems, on the other hand, can be easily expanded to accommodate growth. And because VoIP uses your internet connection, you can make and receive calls from anywhere in the world. Whether you're a small business just starting out or a large enterprise with multiple locations, VoIP is an ideal solution for your business communication needs.
2. Network Switch
Switches are a fundamental component of every network. Hope-Iker offers a comprehensive portfolio of SMB network switches to meet the needs of businesses at all stages of development.
Locally deployed network switches For tighter control of network traffic, configure and monitor your LAN with a managed local switch, or if you want to connect multiple networks, you need a managed switch with Layer 2 or Layer 3 capabilities. Cloud Managed Switches Cloud Managed Switches simplify your network management with a simple user interface, multi-site full line management, and automatic upgrades that work directly on the switch.
3. Wireless Router
In terms of routers, you can deploy on-site routers or cloud-hosted routers, and each option has its own advantages and factors to consider.
Option 3: Temporary office
Get on the same page as the big players and expand the scope for sustainable growth.
Teleworking and collaboration
The COVID-19 pandemic has inspired a global shift towards remote working and collaboration. As a result, businesses need to rethink the way they communicate and VoIP (Voice over Internet Protocol) is an increasingly popular option. VoIP allows users to make and receive calls over the Internet, using a computer or smartphone rather than a traditional phone line. It can be a more cost-effective solution for businesses and it also offers some additional features that may be beneficial in a remote working environment. For example, many VoIP providers offer call forwarding, call recording, and conference calls. In addition, some VoIP services offer integration with popular business applications, such as CRM software. To find the best VoIP provider for your business, it is important to consider your needs and budget. Hope-Iker offers flexible solutions that can be scaled to support businesses of any size, including small to medium-sized businesses, schools, hospitals, government, and other people who stay connected during this time.
Multi-party web conferencing and video conferencing
A conference call is the most popular way to reach many people at once. It's an easy, affordable, and accessible form of communication, perhaps with them scattered across different time zones, via online video chat software so you can see what the other participants are experiencing life without having to be next door!
Voice and video calls for remote use
Mobile equipment (softphone systems, mobile offices) Allows remote or roaming employees to make/receive work calls on their personal mobile devices without having to use their personal wireless plan. Suitable for Android and iOS very easy to set up. This free software phone application works with any SIP account and we have also built pre-configured settings in the application for hundreds of VoIP service providers.
In today's business world, being able to communicate clearly and effectively is more important than ever. That's why it's essential to have a good call quality for voice and video calls, regardless of whether you're in the office or working remotely. Fortunately, modern hosted VoIP phone systems can help your business achieve this. With features like call forwarding and SMS texting, you can stay connected from anywhere. And because all calls are made using your business phone number, customers will never even know you're not in the office. So if you're looking for ways to improve your communications, a hosted VoIP system is a great place to start.
1. Mobile equipment (Softphone systems, Mobile offices)
Allows remote or roaming employees to make/receive work calls on their personal mobile devices without having to use their personal wireless plan. Suitable for Android and IOS very easy to set up. This free software phone application works with any SIP account and we have also built pre-configured settings in the application for hundreds of VoIP providers.
2. Desktop IP Phones
The desktop IP phone is a feature-rich HD voice IP phone that supports 2-8 SIP accounts, 100M/Gigabit network port, IPv6, dual network ports POE power supply. It has high definition sound quality, unique design, 17 languages display, WIFI connection support, compatibility with mainstream IP PBX, multi-angle variation, and access to 32 DSS user status keys. It can meet the needs of different user groups and provide strong protection for users with high-quality products to easily achieve high-quality communication.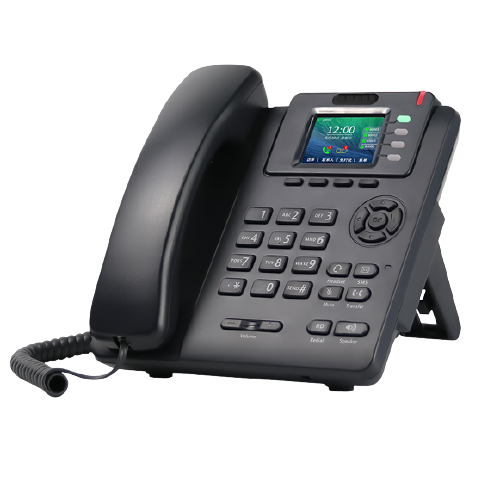 3. Video IP Phones
The smartphone is designed with the original Android system and supports the expansion of applications based on the open Android platform. The device adopts a 7″ capacitive screen, supporting 1024 x 600 HD resolution while taking into account the habits of desktop phones and configuring a full physical dialing keyboard and shortcut keys. The SIP-V918 supports a variety of wired and wireless network access methods, as well as HD Bluetooth and wired headset access, making it suitable for different office settings and setting a new benchmark for smart desk phones. SIP-V918 supports high-definition audio and video calls with excellent hardware echo suppression and noise reduction. It supports the standard SIP2.0 protocol and is compatible with the mainstream Softswitch, IMS, and IPPBX systems in the market, as well as all kinds of SIP protocol mainstream audio and video terminals.
4. Portable Wireless IP Phones
The portable wireless IP phone H680 is a great way to stay in touch with your business anywhere you go. This device has been equipped not only with its own system but also an optional 4G LTE Full Netcom IoT SIM card or modules of dual-band WiFi (2.4G&5G) Support remote roaming. Workers will then be able to access their business VoIP service wherever they are and across any device as long as it's 5G compatible. Super long standby time, Applicable to all kinds of mobile communication places.
How to upgrade your old PSTN(Public switched telephone network) system to a new VoIP phone system
To enhance business processes. When you combine these capabilities with pricing that's generally much less expensive than an old-fashioned PBX and which requires little to no up-front capital expenditure, VoIP is a clear winner. Making the Leap to VoIP If this is your first time switching to a VoIP phone system, the options can doubtless be daunting. Your first step should be to figure out exactly how you want your business to use a phone system. If you have an existing PBX, replacing it entirely might not be a viable option. Some system components can continue to use it, such as FXO (outside lines)and FXS (extension lines)…
1. Firstly, we keep the analog external number(Local phone numbers) so that when a customer calls the local phone number it is still there and can be transferred to an internal extension if required via our VoIP systems.
2. Secondly, the existing extension analog phones can also continue to be used as internal extensions.
3. Through the new VoIP systems, add IP phones and video phones without wiring
By adding an IP phone and video conference capabilities to your VoIP system, you can expand the range of communications without having any additional cables or lines.
4. Add a softphone and wireless Phone for a portable internal phone
If you're looking for a top-of-the-line addition to your office's internal phone system, look no further than the Hopeiker softphone! This innovative device allows you to easily connect with colleagues and clients alike, without ever having to leave your desk. Featuring a sleek and user-friendly design, the Hopeiker softphone is perfect for any office environment.
Wireless phones are often used in temporary situations such as construction sites or remote locations, but can also be used on an ongoing basis.
5. WEB Function management system and VoIP software management system
With a VoIP system, you can manage all voice traffic from a central Web console. It does not affect the number of extensions being used, the location of employees, or even the devices they are using. In addition, most systems provide voice recording, video conferencing, and teamwork.

VoIP Software manages all user call recording, voice playback, multiple device recording, statistical analysis, alarm, etc. Mobile APP client, compatible with Apple and Android systems, dial, answer calls, transfer, etc.
Compare pricing plans to find the right one for your budget and plan for the needs of your business VoIP phone system
When it comes to choosing the best VoIP for small business owners, there are a few things to keep in mind. First, consider the size of your business and the number of employees you have. A smaller business with only a few employees will have different VoIP needs than a larger company with dozens or even hundreds of employees. Second, think about your budget and what you can afford to spend on VoIP service. There are a variety of VoIP providers out there, so it's important to compare pricing and find a plan that fits your budget. Finally, take a look at the features each VoIP provider offers and choose the one that best meets your business's needs. With so many VoIP providers out there, it can be tough to choose the best one for your small business. But by keeping these three things in mind, you can narrow down your options and find the perfect VoIP provider for your business.
As the world of work continues to evolve, organizations need to be prepared for the future. One way to do this is to invest in a business VoIP system that can adapt to changing needs. Here are seven ways to ensure your VoIP system is future-proof:
1. Get a dedicated business VoIP line.
2. Use a cloud-based VoIP system.
3. Make sure your VoIP system is mobile-friendly.
4. Consider adding video conferencing capabilities to your VoIP system.
5. Take advantage of VoIP features like call forwarding and call recording.
6. Make sure your internet connection is stable and fast enough to support VoIP usage.
7. Work with a reputable VoIP provider who can help you set up and troubleshoot your system as needed.
By following these tips, you can ensure that your business VoIP system is prepared for the future